Games
An offline board game that helps you think about techno-ethical dilemmas
Moral design game
It's always fun to play a board game. Away from behind your screen. Just move your pawns and outdo your opponent. And if you also learn something about the moral aspects of technology, that's a bonus.
We created the Moral Design Game. A super fun board game that helps discuss ethical issues. The Moral Design Game is a fun, competitive board game designed to think about the impact of techno-ethical issues in the city, in education and also in healthcare.
Also the Moral Design Game works perfect as qualitative research tool for new technology - ideas. Suppose students have been working on a new technology for weeks, the Moral Design Game gives valuable insights in what other people think about that technology.
Want to know how to validate technology with students by playing a fun board game? Sent an e-mail to r.vandervorst@fontys.nl.
Read more below.
The Moral Design Game is perfect for students, decision-makers, any ethics team, training days or inspirational sessions. See an example case (Dutch) below.
Are you interested in giving the Moral Design Game a try? There are multiple ways you can participate. Maybe you want to purchase the game directly? Maybe you want more information? Maybe you have an idea that you want to develop with us? You can contact us and find more information via moraldesigngame.eu
If you wish to become well-versed in playing the game, we also offer moderator training. This training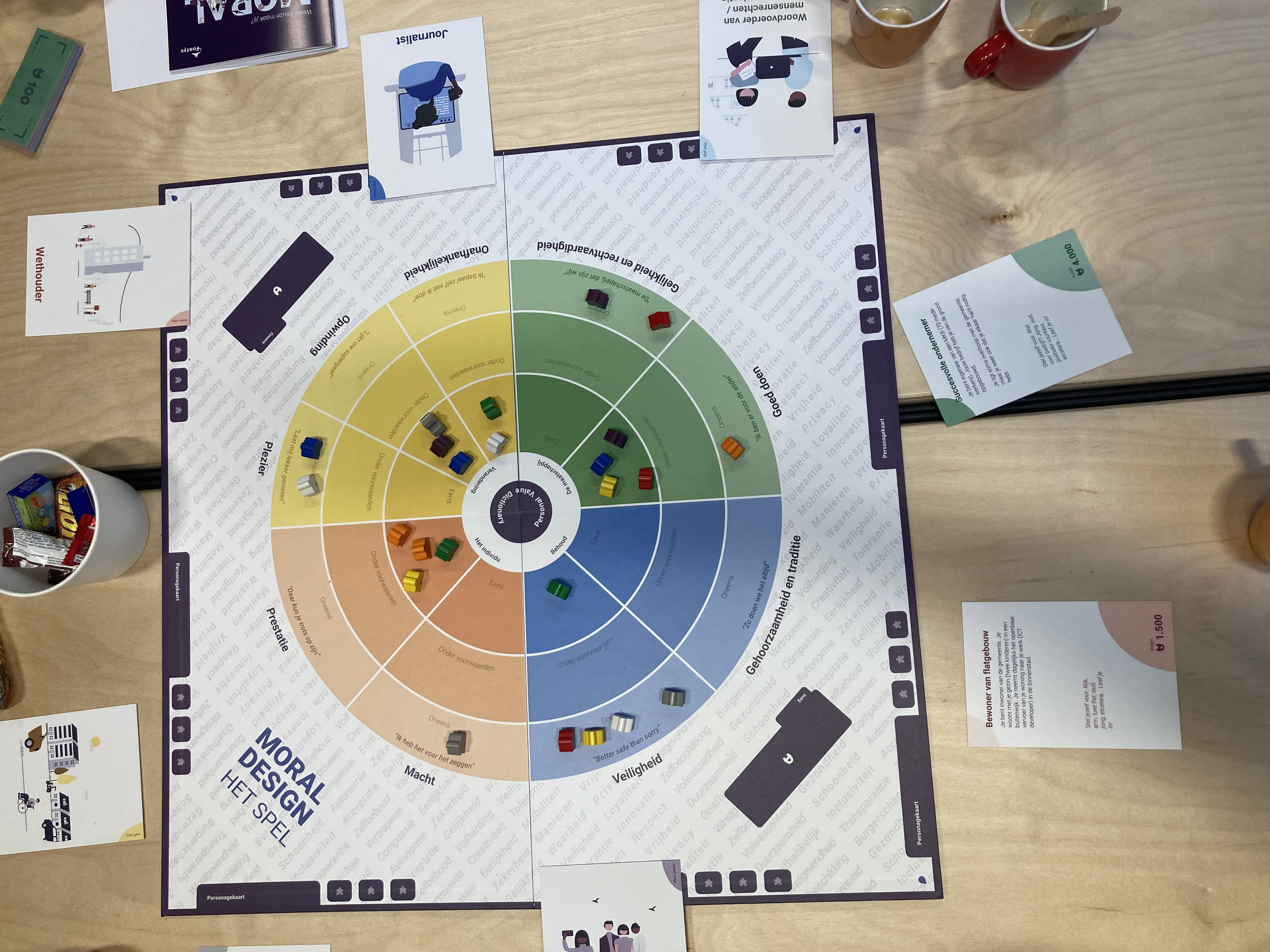 can be conducted online, allowing you to learn the game thoroughly.
Alternatively, if you prefer a more interactive experience, we are delighted to arrange a workshop where the moral design team can come to you and play the game together. This workshop can also be conducted online, ensuring flexibility and accessibility.
You can play the game with students, civil servants, teachers, administrators, politicians, managers and citizens at all kinds of different organizations. Ministries, municipalities and schools
To buy the Moral Design Game or find more information, simply go to: moraldesigngame.eu
Do you have questions? Or you want to contact us? You can use the contact form below or sent an e-mail to r.vandervorst@fontys.nl.